David Blaine
Introduction
David Blaine, a young and talented magician, is rapidly changing the face of magic. Known as the "magician of the millennium" Blaine broke through cult status by levitating on the streets of New York in his first ABC special "David Blaine: Street Magic".



Life

Born in Brooklyn, New York on April 4, 1973, Blaine was inspired by his mother Patrie White, a gypsy, to practice magic. His interest further peaked at the young age of four, when Blaine witnessed a subway performer which led him to practice his own card tricks. By the age of ten, Blaine's mother remarried and the family moved from New York to New Jersey. During his teen years, Blaine took regular trips back to New York to pursue acting. He was fortunate enough to land some commercials and appearances on daytime dramas. When Blaine turned 17, he moved back to the city and took residence in the notorious Hell's Kitchen. In 1994, Blaine's mother, died of ovarian cancer. The loss did not stifle his burning desire to perform. Blaine continued with his plan to be the best at what we was able to do best.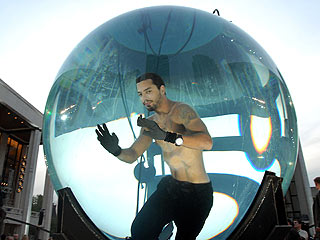 David Blaine in water ball
Fame
Blaine's name began circulating when he began performing at celebrity parties. Confident in his entertaining abilities, Blaine decided to venture out to greater heights by sending a tape of his craft to ABC studios. The response he received was overwhelming and immediately an interview was requested. In 1997, ABC aired "David Blaine: Street Magic." "Street Magic" introduced the world to Blaine's talent, ability and charm. It was after this television special that Blaine's life story was optioned by Robert DeNiro's production company, Tribeca, for a big screen treatment. In 1999, David directed, with the help of director Harmony Korine, his second ABC special "David Blaine: Magic Man." Unlike "Street Magic", "Magic Man" was shot like a movie and took his show to a whole new level. Then in April 1999, Blaine overcame a fear that Houdini had always possessed; a fear of being buried alive. He conquered this fear by burying himself underground at the Trump Place in New York City, without food and water. He emerged, after seven days, emaciated and weak. In November 2000, Blaine performed what was known as the greatest feat ever. He froze himself in a 6-ton block of ice in New York City's Times Square. Close to one million people watched him emerge from the block of ice 61 hours later on a live television special called "David Blaine: Frozen In Time".
Outside U.S
Blaine took his act outside of the U.S. in December 2000. He released his first video in the United Kingdom, which was a compilation of "Street Magic" and "Magic Man." The video titled "Mystifier" blew the United Kingdom viewers away. Blaine "mystified" the U.K. and as a a result, they nomimated him for a BVA award (British Video Association) as well as a HEW (Home Entertainment Weekly) award. In November 2001, Blaine released "Showman," his second video in the U.K. The video showed his "Frozen In Time" special in addition to unseen footage dating back to his first street performance.
Blaine's latest and greatest feat was on May 2002 when he hoisted himself on top of an 80 foot pillar. He remained on the pillar for a total of 35 hours before stepping off and landing onto a 12 foot-high pile of boxes. In preparation for the stunt, Blaine went without food and had minimal amount water.
Blaine enjoys bringing magic to the public like Houdini did 100 years ago. Like the famed magician, Blaine favors endurance tests more so than magical feats. It's the ability to escape a "tight squeeze" and not make a "card appear out of thin air" that gets this magician's adrenalin pumping.
David Blaine Stunt in UK
Accomplishments
Blaine began his career with street magic, performing card tricks, levitation, and illusions, such as bringing apparently dead flies back to life. Recorded live in front of everyday people by a small camera crew, this act provided the basis for his breakthrough television specials, David Blaine: Street Magic, David Blaine: Magic Man, and David Blaine: Mystifier.

He later turned his attention to feats of endurance; these included being buried alive for seven days, spending 61 hours encased in ice, standing on a tiny platform at the top of a 100 foot high pole for 35 hours, and living in a transparent Perspex (Plexiglas) box for 44 days without food (over the Thames).

Though not the first entertainer to perform street magic or survive endurance stunts, Blaine's unique contribution to magic was his charismatic use of video and television to reach the MTV generation in a decade where magicians were out of touch with younger audiences.